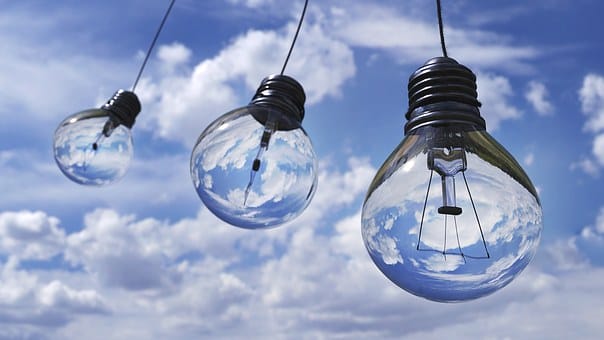 It's been a few years since most old-school incandescent light bulbs were taken off the market.  Those bulbs have been largely replaced in stores with contact-fluorescent-lamp (CFL) and LED bulbs, offering a mind-boggling array of choices in your local home improvement store.
What's the difference?
According to the US government Energy Star website, light bulb types function differently.  Incandescent bulbs allow an electric current to heat a wire filament until it glows to produce light.  CFL, or compact fluorescent lamp, bulbs are the curly light bulbs.  A CFL bulb produces light when the electric current passes through a gas-filled tube to produce ultraviolet light. Ultraviolet light is invisible, but it "excites a fluorescent coating…which then emits visible light."  LED, or light-emitting diodes, can look more like the traditional incandescent bulbs.  Electric current passes through a semiconductor to produce visible light from an LED.   LEDs can produce a variety of colors and directional light.
LED bulbs are the best choice for homeowners
You will have a hard time finding an incandescent bulb to purchase these days.  While some specialty bulb sizes are still available, nearly all incandescent bulbs are off the market.  Even if you still have some old functional bulbs floating around in storage, you may be better to replace any burned-out lights with newer options for their energy savings.
CFL seemed to emerge as an early favorite.  The energy savings over incandescent bulbs was significant – about 70% less energy consumption – and CFLs were originally significantly less expensive than LEDs.
However, the energy savings offered by CFLs was counterbalanced by some significant drawbacks:
CFLs can take some time to warm up and provide full illumination, sometimes up to three minutes.
With the long warm up time, the energy savings and light lifespan were reduced in lights that were frequently turned on and off.
Older CFLs sometimes hum or buzz, an annoyance to those nearby.
The mercury contained in each CFL bulb poses a disposal challenge for burned out bulbs and a potential health hazard when bulbs brake in your home.
As the cost of LEDs came down, CFLs lost their early edge.  Today, LEDs are the best choice for most household light fixtures.
LED bulb advantages
LED bulbs last longer. Most LEDs have a listed lifespan of 25,000 hours compared to most CFLs at 10,000 hours and as little as 1000 hours for an incandescent bulb.
LEDs use less energy than CFL and incandescent bulbs. According to the non-profit NRDC, a CFL uses about 13W and a LED uses about 10W to produce the same amount of brightness as a 60W incandescent bulb.  In addition, LED bulbs aren't susceptible to reduced energy savings in fixtures that are frequently turned on and off.
LEDs do not contain hazardous materials, allowing you to dispose of them the same way you would incandescent bulbs. Note that while you can throw them away, it's always best to find a way to recycle both incandescent and LED bulbs!
LEDs are available in nearly all shapes and sizes to replace nearly all your household bulbs.
LEDs offer different user-friendly options, ranging from the very basic to the fun and crazy!  LED bulbs offer a variety of colors, and are often dimmable.  LED manufacturers have started to include extra technology features such as Bluetooth, WiFi control, and speakers.  Some smart bulbs offer the option to change color so you can have a soft white light for small gatherings, a bright white for meal preparation, and a purple light for the disco party!
Whether you are replacing all the bulbs in your house in one clean sweep to reduce your energy costs or you are taking a more measured approach and simply replacing bulbs as they burn out, you will find the greatest benefit from choosing LED bulbs over CFLs for most of your household light fixtures.