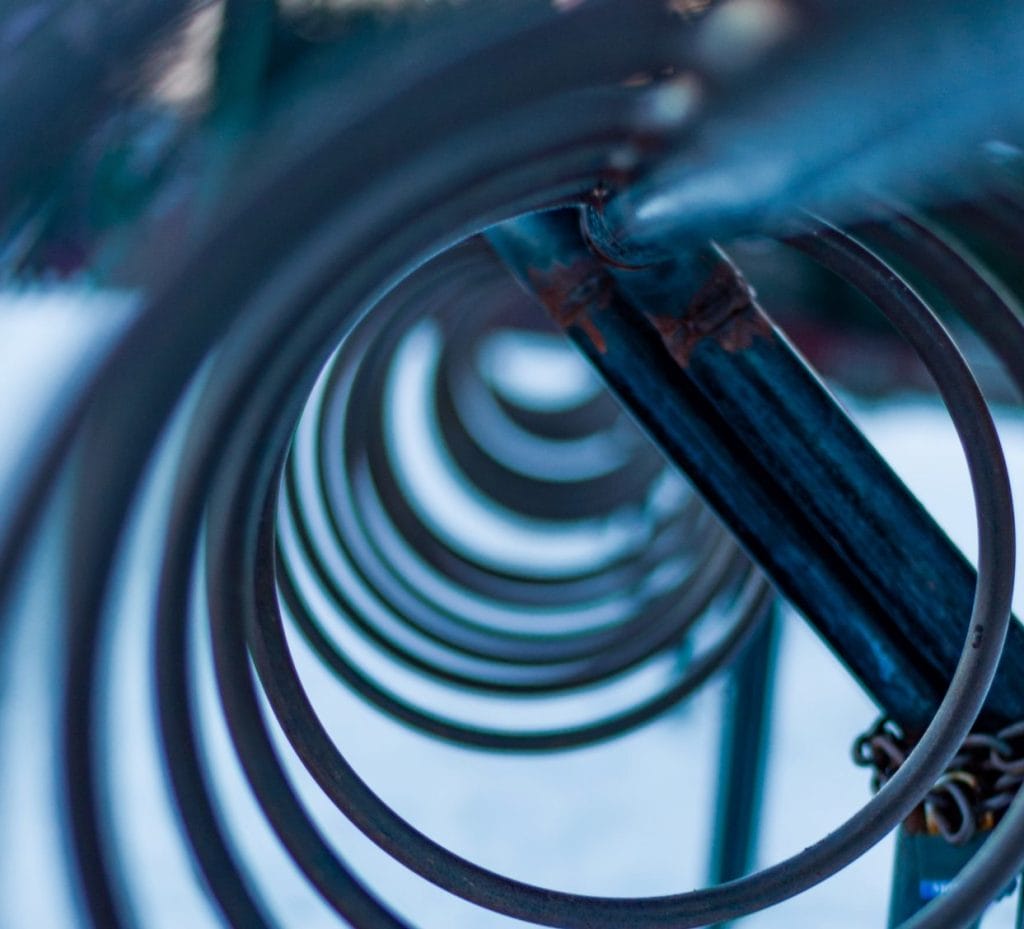 If your heating system has a leaky coil, you're probably wondering if you should replace the coil or buy a new heat pump. Feel free to call the experienced HVAC technicians at Fitch Services for our professional opinion. And when you need repair, remember we're available for same-day service, even on weekends and holidays, on call 24/7 for heat pump repairs and maintenance.
Call 434-296-9980
If your HVAC system has a heating coil leak, you might think that a simple replacement will do the job. But, not so fast. While you may indeed be able to buy a leaky coil replacement, there are several reasons why replacing your heat pump is the smart, more economical decision.
The difference between a heat pump and an air conditioner
Heat pumps and air conditioners are very similar; their only real difference is that a heat pump can reverse itself to provide heating. Many people think that air conditioners ADD cool air to a room, but they actually SUBTRACT heat from the air and send it outdoors.
Heat pumps can send heat in both directions – from the inside to the outside (which cools your house) and from the outside to the inside (which heats your home).
The best way to tell if you have a heat pump or air conditioner is by checking the manufacturer sticker on the side of your outdoor unit. Look for the Model Number (M/N) and enter it into an internet search engine, which will tell you what you have.
Understanding your heat pump's coils
Heat pumps – like air conditioners — have two coils, an indoor coil, known as the evaporator coil, and an outdoor coil, known as the condenser coil. Without these coils, your heat pump can't heat or cool your house.
The evaporator coil is filled with a very cold refrigerant that absorbs heat. Once the refrigerant leaves the evaporator coil and flows to the outside unit, it enters into the condenser coil and becomes pressurized, which raises the fluid to a hot, gaseous state. The air is released outside, which is how your home gets cool.
A heat pump can also reverse this process, so during the cold Charlottesville winter, heat is absorbed from the outside, and the refrigerant becomes hot, circulating back to the indoor evaporator coil where it's discharged inside the home. It might not make sense that heat is absorbed from outside to heat your home during winter, but there is still heat energy in cold environments.
Why do coils fail?
Heat pump coils, just like any other equipment, fail and spring leaks because of general wear and tear. There are a few reasons for this, including:
Wear and tear. Over time the refrigerant wears down the inner lining of the coils, which makes them weak. The older your heat pump is, the more likely the coils will be worn down. Wear and tear is the most common reason for a heating coil leak.
Damage from outside sources. A coil could be damaged from impact or debris. This makes it much more susceptible to leaks.
Coil cleaners. Some coil cleaners can disintegrate the outer lining of coils. This repeated corrosion weakens them, making them more prone to leak refrigerant.
Once your heating coil starts to leak, you either have to replace the coil or the whole heat pump. What's the right choice?
Should you replace the coil or the entire unit?
There are a couple of reasons for only replacing the coil. They include:
Part under warranty. If either your evaporator or condenser coil is still under warranty, it's probably not a bad idea to replace the part.
New heat pump. If your heat pump is new, in good condition, and still under warranty it makes sense to replace the leaking coil.
Often, it's more cost-effective and responsible for replacing the entire system. An evaporator coil is one of the most expensive parts of a heat pump and rivals a system replacement in price.
There are several reasons for replacing the entire unit. They are:
Your heat pump is 8+ years old. HVAC systems last between 7 and 15 years. If your heating pump is at least seven years old, replacing only the coil would be like putting a new engine in an old car. Your new coil would be working alongside an aging system, which could cause the coil to fail sooner.
The replacement evaporator coil may be obsolete. Every heating pump has a SEER rating (13-21) that determines how efficient the unit is. The federal minimum SEER rating is 14, but older heating systems might have a lower rating. So, for example, if you have a 13-SEER unit that needs a replacement coil, 13-SEER coils for that unit may be obsolete.
Mismatched replacement. If either your evaporator coil or condenser coil breaks, replacing just one will make it an incompatible match with the other. Problems can occur with a mismatch in SEER, refrigerant, or age. They include inefficient temperature regulation, costly electric bills, frequent repairs, or lifetime expectancy decrease in your heat pump.
Obsolete refrigerant If your heat pump uses R-22 refrigerant, your best bet is to replace the unit with one that uses R-410A. R-22 has been phased out in the last decade because of its harmful impact on the environment; thus, none is produced today, making it very expensive. It's so expensive that most HVAC professionals recommend replacing the entire unit.
Bad brand. Some manufacturers don't make efficient heat pumps. The HVAC technicians at Fitch Services install American Standard heat pumps known for their superior quality.
Contact the Heat Pump Experts
If you have a leaking coil, it is wise to replace it if the part is still under warranty and your system is new and appears to be in good condition. Keep in mind, however, the compatibility problems and inefficiencies the system may face from doing that.
On the other hand, it's a good idea to replace your unit if your heat pump is older, it uses R-22 refrigerant, or the coil part is not under warranty.
The HVAC technicians at Fitch Services are your Charlottesville heating and cooling experts. If you have a leaky coil, we will send a tech to diagnose your issue and advise if you should replace the coil or the unit. Call us today.