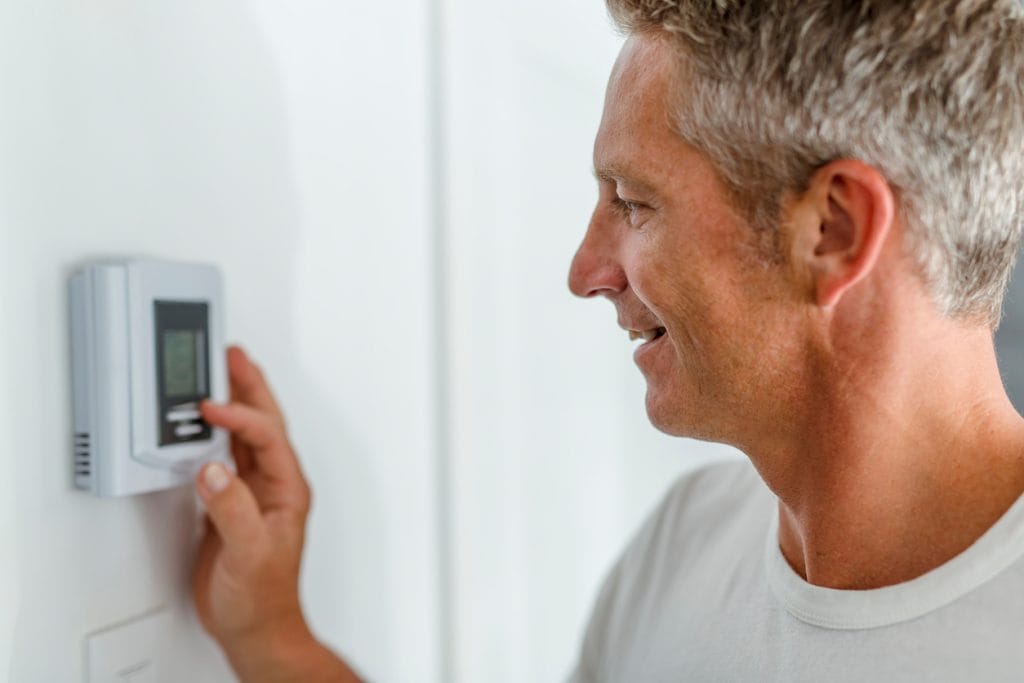 As the leaves begin to turn and the holidays draw near, the colder weather sneaks into our homes. No one likes crawling out of bed only to be welcomed by frigid indoor temperatures. Now that we're using heat more often, sometimes the auxiliary heat kicks in, and we ask ourselves, "How do I stop my auxiliary heat from coming on?"
What Is Auxiliary Heat?
Auxiliary heat is a supplemental heating system that your HVAC system activates when your heat pump needs help to reach or maintain your thermostat's temperature setting.
Auxiliary heat, also known as "aux heat," is triggered when your heat pump's compressor, alone, can't generate enough warm air to heat your home.
The auxiliary heating process taps extra electricity to maximize your heat pump's output and also sends electricity to heat strips that boost the temperature as air passes by them.
Is Auxiliary Heat Different from Emergency Heat?
So, what's the difference between auxiliary heat and emergency heat? While both emergency heat and auxiliary heat are known as electric resistance heating and use the same heating elements, there are slight differences.
Auxiliary heat comes on automatically, closing the gap when your heat pump cannot maintain the temperature you have set. Auxiliary heat often kicks in when the temperature in your home drops abruptly. Auxiliary heat is intended to provide your heat pump with a temporary boost.
Emergency heat, on the other hand, must be turned on manually with your thermostat.
If your HVAC system is functioning properly, avoid using emergency heat unless outside temperatures are below 30 degrees. If your HVAC system is malfunctioning, however, you might need to activate emergency heat.
Malfunctions in your HVAC system can include:
Flame sensor issues
Pilot outage
Furnace lockout
Dirty pilot
Gas supply problem
Old filters
Blown fuses
To minimize malfunction issues and limit excessive heating bills, schedule regular HVAC maintenance twice a year.
What Causes Auxiliary Heat to Turn On?
When you notice "auxiliary heat" displayed on your thermostat, you might wonder what triggers it. Here are the common culprits:
In the rush to switch from AC to heat, your heat pump might work on overdrive to raise the temperature quickly. If it struggles, auxiliary heat may come on to supplement the gap.
If the temperature outside drops suddenly, your heat pump will need to work harder to keep your home at your set temperature. If the heat pump cannot keep up with the demand, the auxiliary heat will step in to save the day.
If you abruptly increase the temperature on your thermostat more than two degrees, the strain on your heat pump could be enough to tap into aux heat.
Some older heat pumps cannot work properly when external temperatures dip below 32 degrees. If you have an older unit, sub-freezing temperatures outside can cause your auxiliary heat to turn on.
Your heat pump may be malfunctioning, causing your auxiliary heat indicator to turn on or stay on.
Is Auxiliary Heat More Expensive?
Yes. Although auxiliary heat is fast and dependable, it's significantly less efficient (more expensive) than your heat pump's standard operating mode. If your system often requires auxiliary heat, your heating costs may be up to 50 percent higher.
What Can I Do to Stop My Auxiliary Heat from Coming On?
As we mentioned, auxiliary heat raises your energy bills. While you can't program your unit never to use aux heat, there are ways to limit how often your auxiliary heat comes on.
How can you prevent or minimize the use of auxiliary heat?
Lower The Temperature
Programming your thermostat in a way that forces your heat pump to work harder and more swiftly could force your aux heat to turn on.
To prevent this from happening, lower the temperature in your home. If you truly enjoy a warmer-than-average home, your system may benefit from changing the settings only 2 degrees at a time.
Invest in Better Home Insulation
Properly installed insulation keeps warm air from escaping your home throughout the winter. By keeping the warm air contained inside your home, the temperature will fall below your desired thermostat setting less often, limiting how often the auxiliary heat comes on.
Use Space Heaters
When it gets too chilly inside, try using space heaters. A portable electric space heater is a quick way to increase the temperature in the room you're in. Warm that room and lower your thermostat setting for the rest of the house, lowering the need for auxiliary heat.
Check Your Thermostat
With some newer thermostats, the auxiliary heat may turn on if the temperature does not rise quickly. Your HVAC technician might reprogram your thermostat or recommend a different model.
Older thermostats, on the other hand, are more likely to malfunction, which can also trigger auxiliary heat. Ask your HVAC services technician to inspect your thermostat and HVAC system if your auxiliary heat comes on often or stays on.
Schedule an Autumn Tune-Up
Avoid or minimize the additional energy costs of auxiliary heating and the inconvenience of issues arising during the coldest time of the year by making sure in the early fall that all moving parts are in working order, air filters are changed, and your heat source does not require any repairs.
Charlottesville area residents can call Fitch Services at (434) 296-9980 for emergencies or use our contact form to request a heating system tune-up before winter begins.